4.000 euros
Credits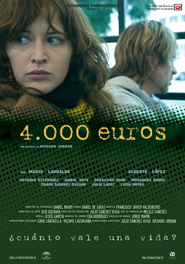 OCTOBER 2008
35 mm. 97′
Director and script: Richard Jordan
Producer: Julio Sánchez Veiga
Photography: Dani Mauri
Sound Technician: Daniel de Zayas
Editor: Javier Valdenebro
Cast: Marta Larralde. Alberto López. Cesáreo Estébanez. Macarena Gómez. Sebastián Haro. Aní­bal Soto.
Synopsis: The longest day of Sara's life starts when her brother arrives at her home with his face covered in blood. If Sara doesn't get 4,000 euros at the end of the day to pay a debt, they will kill him. It is a race against time in which she will have to confront many ghosts of the past and a family she wanted to forget.
Images
Achievements
SEMINCI 2008 (Valladolid International Film Festival) "Punto de encuentro" Section
SEVILLA FILM FESTIVAL 2008 (Andalusian Panorama Section)
IBERO-AMERICAN FILM FESTIVAL OF HUELVA 2008 (Andalusian Panorama Section)
MÉRIDA INTERNATIONAL FILM FESTIVAL 2008 (Oficial Section)
WASHOUGAL INTERNATIONAL FILM FESTIVAL 2009. WASHINGTON. ESTADOS UNIDOS. (Oficial Section).
Links
4000 Euros web
www.4000eurosthemovie.com