Death and Resurrection
Credits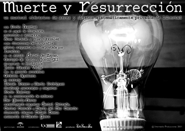 OCTUBRE 2001
Animaction. 35 mm. 8′
Director, script and animation: Rocío Huertas
Photgraphy: Alex Catalán. Juan González
Producer Manager: Julio Sánchez Veiga
3D Animation: Manuel Gasco
Editor: Fabián Romero. María Rodrí­guez
Sound Technicians: Enrique de Justo. Daniel de Zayas. Fabián Romero
Synopsis: A glass stem, which we can found inside a bulb, plays with his filament. A glass globe and a base trap the glass stem inside them, creating the classical light object. An electric musical of beings and objects systematically deprived of their liberty. A cyclical story about buildings boxed, bulbs trapped in caves and tombs absorbed by clouds.
In collaboration with LZ Producciones y Letra M
Junta de Andalucía and Consejerí­a de Cultura
Achievement
Best Andalusian Short-film in 2001. Finalist. ASECAM Awards (AAndalusian Scriptwriters Association)
Best Andalusian Animation Short-film in 2001. Diputación Provincial de Málaga
Mention of the Jury. Festival de Cine de Peñíscola
RTVA Award. Best Andalusian Short-film. Festival Alcances (Cádiz)
Broadcasted by Canal Sur – Canal 2 Andalucía.