Jon Mar Memories
Credits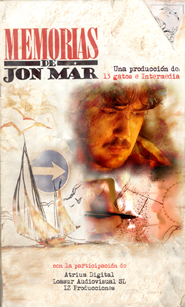 JUNE 2002
Betacam SP. 18′
Director and script: Jesús Carlos Salmerón y Manuel Raya
Cast: José Luis Garcí­a Pérez, Alex O'Dogherty, Isabel Ramírez, Mercedes Bernal
Photography: Alex Catalán
Editor: Miguel Moreno
Music: Santi Martí­nez, Enrique Galera
Sound Tehcnicians: Daniel de Zayas, Juanma López
Sound Editor: Rafael Jiménez, Jorge Marín
Art Director: Marco Kaykeito
Executive Producer: Julio Sánchez Veiga
Associated Producer: Francisco Lomeña, Pablo Durán
Producers: Mª Paz Piñar, Anabel Alonso, Silvia Vázquez, Miguel Paredes
Master Editors: Paco Campano, Mercedes Cantero
Make-up: Luisa Ballesta, Juanma Palma
Credits Designer: Sebas Talavera
Synopsis: It's the story of a man educated in accordance with the rules that prevail in our society, in an environment where the group prevails over the individual. A man who one day wakes up from his sweet dream and realizes that life has nothing to do with the existence that has led so far.
Co-produced by 13 Gatos.
In collaboration with Atrium Digital, Loasur Audiovisual y La Zanfoña.
Achievements
Best Andalusian Short-film in Certamen Nacional de Cortometrajes de Dos Hermanas (Sevilla).
Best Soundtrack in II Certamen de Cortometrajes Andaluces. Diputación de Málaga.
Broadcasted by Canal 2 – Andalucí­a.