The End
Credits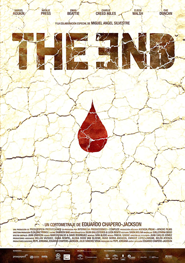 SEPTEMBER 2008
35 mm. 25′
Director and script: Eduardo Chapero-Jackson
Producer: Julio Sánchez Veiga / Pepe Jordana
Photography: Juan Carlos Gómez
Editor: Iván Aledo
Cast:: Samuel Roukin, Natalie Press, Charlie Creed Miles, Eileen Walsh, Evie Duncan y Ewan Beattie. Special collaboration: Miguel Ángel Silvestre.
Synopsis: Water is the very essence of life. Without it there is only death, desert and emptiness. Humanity is going to kill himself if keeps mistreating its source. Not only by drying it up and poisoning it, but thereby uncovering the darkest human emotions. All of us have inside the seed of fear and distrust, of selfishness, exploitation and laziness. The seed of a pain that has become destructive anger that feeds itself. Everything can get out of hands. We can lose everything. Everything. We are creatures that find very difficult to resist our impulses. The End is a glance at our final clash. Maybe it would gives us the opportunity to remember our beginning and inspire us to recover it.
In collaboration with:
Junta de Andalucí­a – Consejerí­a de Cultura
Sponsored by:
Fundación CAJASOL, EMASESA-Ayto. de Sevilla, Consejerí­a de Medio Ambiente (Junta de Andalucí­a), Diputación de Almerí­a.
Achievements
 
Broadcast rights acquired by Canal Sur[/pane] [/tabs]