The milk cow
Credits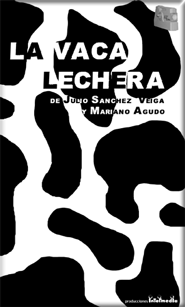 MARZO 1997
16 mm. 4′
Director: Julio Sánchez Veiga y Mariano Agudo
Photography: Mariano Agudo
Camera Assistant: Lucí­a Rodrí­guez
Script and voice over: Julio Sánchez Veiga
Producer: Miguel Paredes
Music: Luis Piñero
Sinopsis: Is existentialism a feeling exclusively human? We drive nature at will and to our own profit. But, what about the cows? Have you ever stopped thinking how do the cows convicted at the dairy , imprisoned by men, stripped meadow and extension …? convicted, imprisoned man, deprived of meadows and openness…?
Images
Achievements
Included in short-film collection Cinexin
Broadcasted by Canal +.
First Prize in IX Certamen de Video Joven. Sevilla 1998.