Tied
Credits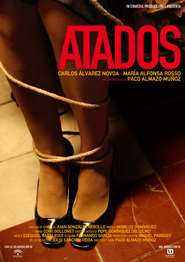 JUNE 2009
35 mm. 10′
Director and script: Paco Almazo
Executive Producer: Miguel Paredes Arjona
Photography: Juan González Rebollo
Art Director: Pepe Domí­nguez
Sound Technician: Daniel de Zayas
Music: Ezequiel Salaregui
Cast: Marí­a Alfonso Rosso, Carlos Álvarez Novoa
Synopsis: H. and M. are two violent and tormented characters for whom cruelty is an everyday activity. In Tied we witness the ongoing clash of two wills trying to impose himself over the other. H. and M. trapped and gagged themselves and run away from each other in a stale and murky atmosphere.
In collaboration with:
Junta de Andalucí­a – Consejerí­a de Cultura
Images
Achievements
 
RTVA Award in the Young Filmmakers Festival of Granada.
Links
 
Blog de Atados
http://cortoatados.blogspot.com/