Moroccan Labyrinth
Credits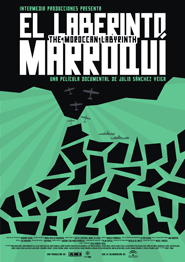 OCTOBER 2007
HD CAM. 97′
Director and Script: Julio Sánchez Veiga
Cinematography: Mariano Agudo
Producer: Natalia de Ancos
Producer Marruecos: Alí Messaoudi
Sound: Daniel de Zayas
Graphic Design: Joaquí­n León, Marí­a Rodrí­guez
Historical adviser: Marí­a Rosa de Madariaga
Editor: Mariluz Domí­nguez
Sinopsis: The Spanish colonialism in Morocco was decisive in the history of Spain. After the "disaster of 1898" the monarchy and the military were determined to control this territory despite the massive popular opposition. EL Barranco del Lobo, la Semana Trágica, Annual… The conflict cost tens of thousands of lives and polarized Spanish society. Spanish Civil War was in some part result of this conflict. Moroccans, eternal enemies, became strong allies of Franco side.
In collaboration with:
Junta de Andalucí­a – Consejerí­a de Cultura
Achievements
Broadcast rights acquired by Canal Sur and Televisión Española (TVE) LA NOCHE TEMÁTICA. Emisión Marzo 2009.
Marbella International Film Festival 2008
Pamplona Film Festival 2008
Memorimages Film Festival 2008.
International distribution right acquired by ICARUS FILM. Brooklin. NY. USA.